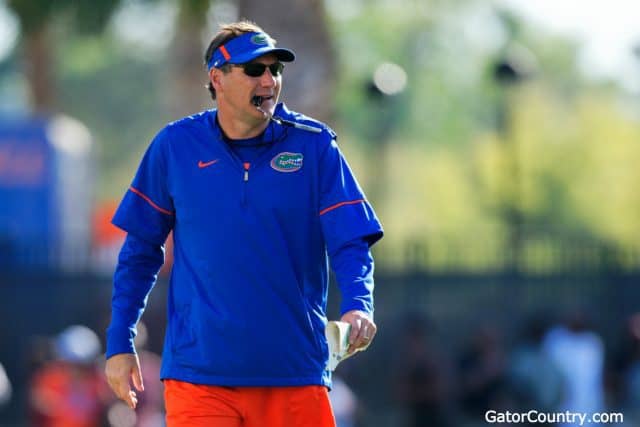 When Dan Mullen was hired on November 26th, 2017 the Florida Gators were in dire need of leadership and direction. They had come off their second four-win season in four years. They were struggling in recruiting. They could not seem to put together an offense that scored points and their defense was sliding backward. Ultimately, Florida was a broken program, that needed to be repaired.
Over the last eight months, Mullen has been tasked with recruiting a nearly full class, installing a new offensive and defensive system, rebuilding a melancholy fanbase, and trying to manage the expectations of the Gator Nation – something that is nearly a full-time job in and of itself.
As Dan Mullen soon ends his first off-season as Florida Gators head coach, Dan Mullen is on track for the rebuild.
Despite rumblings from the tiniest corner of the fanbase, Dan Mullen is sitting in a fine position this season in recruiting after closing on a great class with unbelievably challenging odds.
While Mullen's 2018 19-member class was ranked 14th nationally, which is very strong, it doesn't quite show how good of a job the staff did.
The Gators grabbed seven players that 247Sports ranked in their top-seven for that position group, including two players ranked as the number one players at their position (Lucas Krull, JUCO TE; Evan McPherson, Kicker). For comparison, Jim McElwain signed just three top-seven players in his first class (2015).
The Gators secured signings from players against top competition like Alabama (Malik Langham, Jacob Copeland), Clemson (Richard Gouraige), and Ohio State (Emory Jones), the last three teams that won the National Championship and against staffs that had been in place for more than five years, and have been recruiting each player for at least two years.
The Gators grabbed two four four-star wide receiver transfers that are widely considered NFL prospects.
The Gators bolstered their defensive line with Adam Shuler's transfer from West Virginia University.
And while, the complaint about the Gators current rank in the class of 2019 is the one most widely talked about now, just wait. I know that is not the response many want to hear, but it is early July. If Signing Day was closer, there would be a bigger reason to be concerned, but we are five months away from early Signing Day and seven months from National Signing Day.
Let me provide context, it has been eight seasons since the Gators had an offense ranked higher than 83rd in the country, which means current 2019 recruits were just about half way through fourth grade. Florida hasn't averaged more than 30 points a game since they were in third grade. The Gators have won more than 10 games twice since they were fourth grade.
And while Dan Mullen had great results at Mississippi State, there is still a rebuilding project that need to happen in Gainesville and people want to see what that looks like.
Many folks are going to compare to Willie Taggart at Florida State, who had the 11th ranked recruiting class (and is currently facing the prospect of two signees not enrolling, and that ranking would drop to 14th one spot behind Florida after they moved up), but it is not a fair comparison just yet.
Despite us not wanting to admit it, Florida State has been not only more relevant during most of these prospects memory-creating lifetimes, they have been better more recently. They had a Heisman Trophy and National Championship when these prospects were in middle school and have played in New Year's Six bowl games when they were in high school.
Florida needs to prove more on the field, right now, before they can rake in top-5 classes.
Mullen's staff showed they could recruit with the 2018 class, but they will have to prove they can coach to the 2019 class.
How is different in a few months in 2018 than a year in 2019? Simple. In the class of 2018, they were sold on relationships and what they accomplished in the past at Mississippi State. While the class of 2019, wants to see it in action with the players they will be committing to play alongside.
"How did they implement their system?"
"How will I be used in this program?"
"How will I play along xxx player?"
"I can really see myself playing in this offense/defense." OR "I can't see how I fit in."
And while I know Florida has lost out on a few players they were heavily recruiting, no one as signed anywhere. There are still many visits to be had, calls/texts to be had, and a product to see.
Dan Mullen and his staff have proven to be successful recruiters in the past – I see no reason why he shouldn't be afforded time to do what he does best: coach and develop.