Jim McElwain has been around a lot of elite programs in his coaching career, including a stop in Tuscaloosa, Alabama where the saying is "if you don't see a crane on campus then something is wrong."
McElwain has brought that vision of building an elite program to Gainesville where he's trying to improve the facilities around the Florida Gators football program and the first step of that is already finished.
There were plans made up late in Will Muschamp's tenure to build an indoor practice facility, but it was going to be a small one and those plans changed when McElwain arrived as head coach of the Florida Gators football team.
McElwain decided the indoor practice facility needed to be a 120-yards long and have extra space so that the team could have room for practice drills.Athletics Director Jeremy Foley and company agreed with him and quickly made a change to improve the indoor practice facility.
"I think it shows a commitment," McElwain said of the IPF. "It's something that's been long overdue. What it does is show a commitment. A commitment to this organization and this football program."
Not only does this indoor practice facility allow the football team to never miss a practice due to weather, but it's also a major tool in recruiting and luring the top prospects to Gainesville over places like Auburn, Alabama and others, who have the nice expensive indoor facility like Florida now has.
A lot of the guys that the Florida Gators football program are recruiting got the chance to see the facility for the first time on Saturday when they were in town for the Gators first game.
Florida Gators offensive line commit Brett Heggie has been to Florida State, Auburn, Notre Dame and other schools and he believes that the Gators practice facility is top of the line.
"It's the nicest indoor that I have seen and I have been to Auburn, Kentucky and Tennessee and other schools, it's the nicest one," Heggie said. "I can't wait to get in there to practice and it's just another thing you can say about Florida. Just another attractive thing to bring you too Florida."
Miami Hurricanes receiver Sam Bruce is used to nice facilities because of what St. Thomas Aquinas High School has to offer, but even he was amazed at the Florida Gators indoor facility.
"The indoor was beautiful, that was the first thing I saw when I got here. They took me over there on the cart and it's a great facility," Bruce said on the indoor. "I could definitely imagine myself playing in there."
2017 quarterback commit Jake Allen he was taken back by how nice it was, but the thing that stood out to him the most was that it was another place for him to work out in after he arrives in Gainesville.
"The indoor facility was amazing," Allen said. "Breathtakingly nice. My favorite part is the fact you can go in it whenever you want when you're a player because they have a finger print sensor so we can go in whenever."
As you can tell in the picture below the Florida Gators design team did a great job of mocking the field to look like the Swamp and that's what caught the eye of 2017 Gators commit Daquon Green.
"I love it," Green said. "I loved that big fat Gators logo in the middle of the field and the feel for the turf."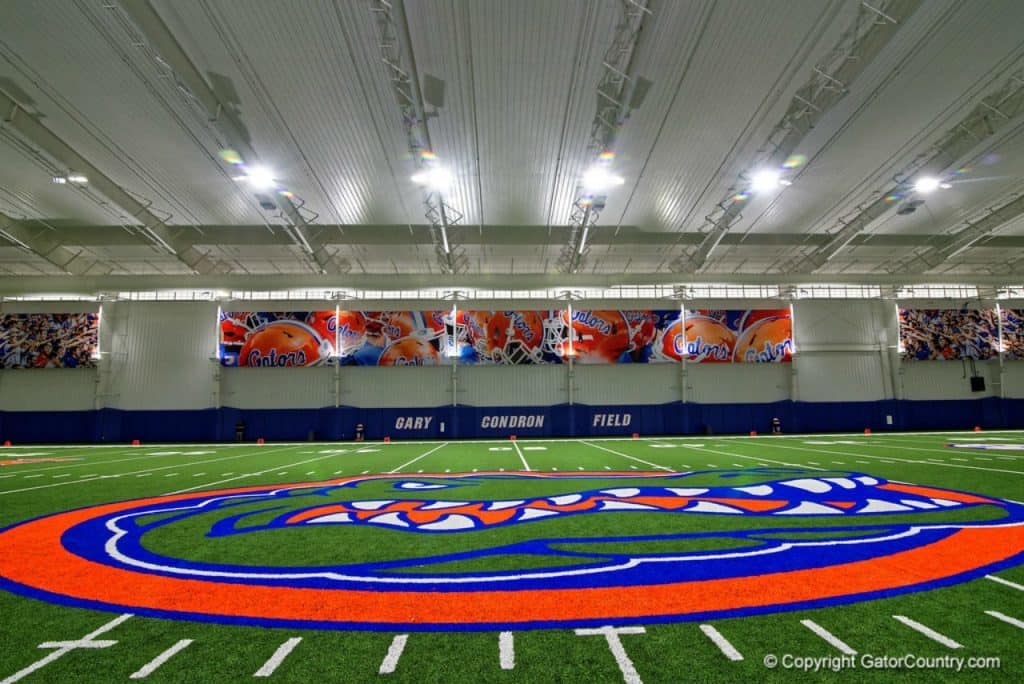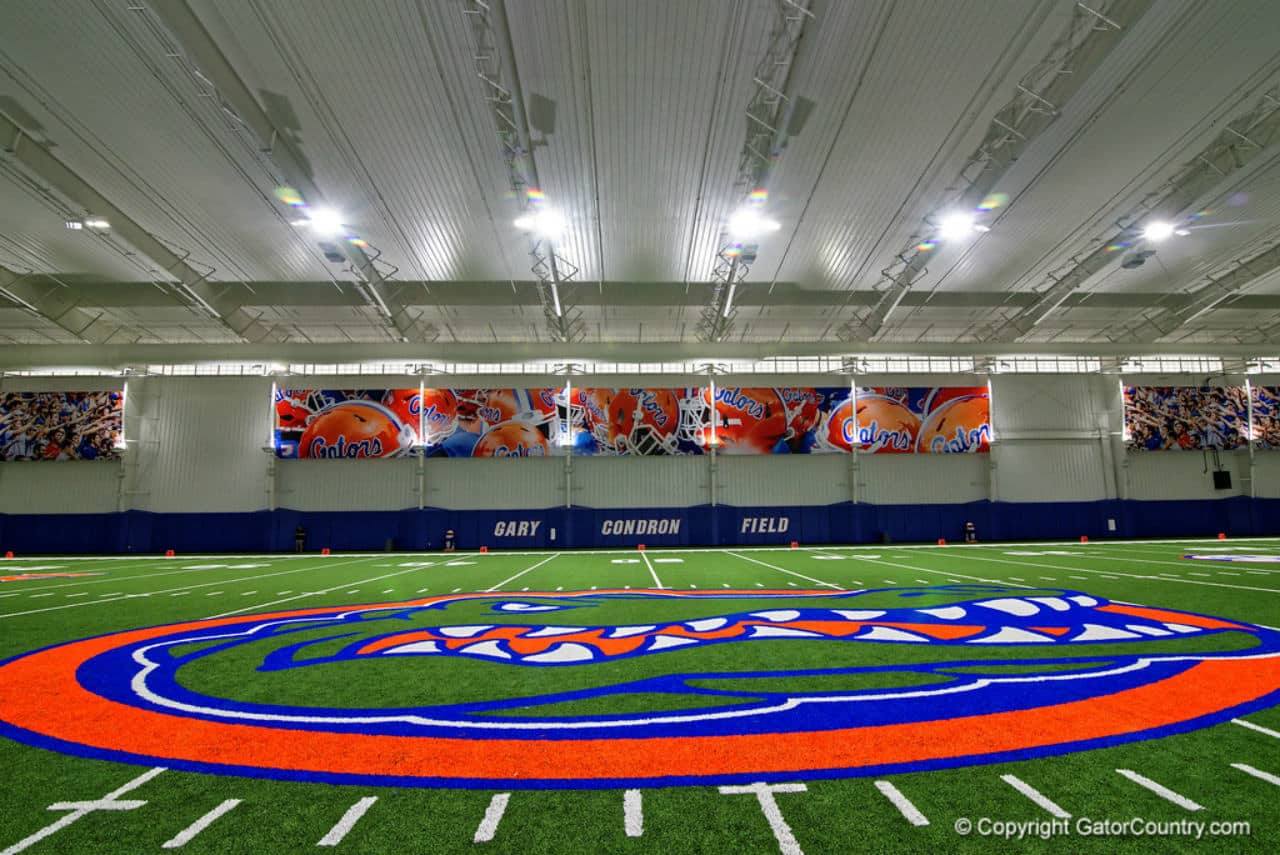 Offensive line commit Stone Forsythe noticed the graphics in the indoor facility as well.
"It's amazing in there, really nice," Forsythe said. "The logos and stuff really stands out to me in there."
McElwain is a marketing guru and he knows how to market his program. The indoor facility is just another tool he can use and it's a big tool according to athlete commit Tyrek Tisdale.
"It's beautiful and it is an upgrade due to bad weather in the area with a storm or anything like that, you can still practice," Tisdale said. "It's something new for the players that's been here and something for the future players to see and enjoy."
The indoor practice facility is not the only new thing for student athletes at Florida as the Gators also have built a new academic center, which McElwain says, is something that doesn't get talked about enough.
"It was something that's going to help them be successful," McElwain said. "Just like the academic center that's doubled in size. Right, that's what they came here for, and yet, that's been kind of over shadowed a little bit. That's something that is huge because that affects their daily lives."
Recruiting is the lifeblood of any college program and the Gators have a man in Jim McElwain that understands new and beautiful facilities help land football players.
When you land good football players, guess what? You usually have a pretty good football team which makes Gators fans happy and that's where Jim McElwain is taking the Florida Gators football program.