Homeward Bound, Florida @ Vanderbilt 8:00 P.M.
Sorry about not getting this weekly installment out last week. I was too busy pouring the fuel on my UGA hatred, ala re-watching last year's game, more-than-enough "Incident" articles, and general backstory on the Poodle's treatment of my fine Gators over the years. Had I written a blog it probably would've looked something like this –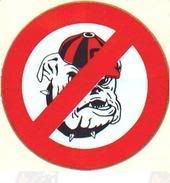 in lesser, far more derogatory words, of course.
With my blood boiling and 3 of the 4 seats in MY car occupied by poodle fans, we made the Lord of the Rings-esque journey to Jacksonville. And let me say this, I've passed through Jacksonville before but really haven't spent any time in the city itself. Between the sketchiest
home-made SHUTTLE
service ride from the landing back to our hotel to the areas around the stadium itself, I was scared, and
I'm a MAN. I'm 40
.
Almost
.
Speaking of me, here I am at the game, with one of the 3 poodle fans who rode with me, also known as my
girlfriend
.
She will be assimilated soon enough. Promise. Cute though, huh?
Notice our seats? Yeah, it, too, reminded me of our ride through Jacksonville where the majority heavily outnumbers and scares the minority. Except these guys were all red, and I, the only blue. But
lo
! I am a pirate!
Arrrrrrrrgh
! And I swore to make it known to these DOGlubbers just where I stood when it came to this game. Too bad I only had 2.5 quarters to get on their nerves as they were seen, tucking tail, and leaving soon after the 3rd started. I did however like these shirt some UGA fans were sporting, seems they've got it about right –
And to Vandy –
Just win. If there was any one game more important than the last, it is THIS one. We could lose the rest of our games, having won this one, and still come out of the season smelling like champs. Just freaking win. Enough said.
The Gab: Florida 42, Vandy 19
However, I want to smell like doubly champs though and that means getting to the BCS game, which, in my eyes, will take some doing. Here's the equation as I see it --
(YUCK!)
Current BCS standings:
1.
Alabama
2.
Texas Tech
3.
Penn State
4.
Texas
5.
Florida
6.
Oklahoma
We need to be in the top two at year's end to play in THE game. As I see it, barring some miraculous turnaround of the computers, our biggest opponent in getting to the game is
Texas
, minus those we actually have to play, of course. And as it stands their computer ranking gives them the nod while the human polls give us the nod so it's hard to say, when it's all said and done who would get the bid. My gut feeling says Texas though, so we need a shakeup. Shakeup scenarios: Penn State loses. This would mean a SEC Champion Florida would definitely go, I believe, along with the Big 12 Champion.
Chances – 30%
. Another scenario is if Texas Tech wins out, beating Ok State and Oklahoma but loses to Big 12 North Missouri in the Championship game. This seems a little less unlikely, but it would ultimately favor us. Texas couldn't go to the game because they wouldn't have won their division or their conference (see UGA last year).
Chances – 10%
. Our last hope is that everyone loses another game: Texas, Oklahoma, Texas Tech, Penn State, everyone. Not very likely but, again, we'd make it to the game.
Chances – 5%
. Our best hope is Penn State losing then, so pray/cheer for a Big 10 upset.
I figure we have a 1 in 3 shot, even if we win out, to make it. Those odds are not too kind but, at the beginning of each season, if you were guaranteed a 1 in 3 shot to be crowned the best team in college football, would you not be excited? SO GET EXCITED! Beat those
commies
! Cock block those little
Spurriers
! –Insert catchy beatdown of Citadel here- (
Go Keydets
?), and dish out some Orange and Blue justice to those
Criminoles
out west! Let's make it happen!
Question of the week –
If Florida, god forbid, doesn't make it to the BCS game, what scenario would you like to see, as in what teams would you like to see play in it? I think, I'd like the game that would shed the most light on the errors of the BCS, what that maybe, I don't know. But what about you? Let me know in the comments! Thanks and GO GATORS!
P.S.
I know blogs are for whatever comes to your mind, opinion, whatever, but the last thing I want to hear about is how you have to split computer time with your marital partner and holy hell knows what else. I had to put that somewhere. Sorry.
Views
1913
Comments
0
Comments
Trackbacks