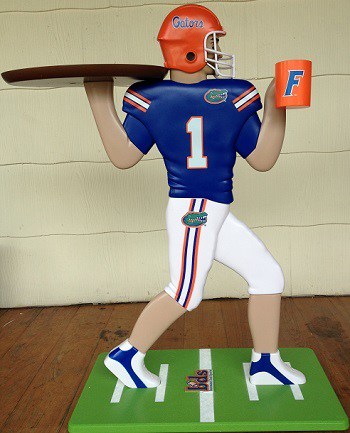 Because Gator Country is one of the top ten college sports sites in the nation, advertisers regularly reach out to us. It's a pretty standard process. They pay, we put up their ads.
But every now and again there comes along a product so unique and innovative, so well designed and made, we at Gator Country personally introduce it.
A few weeks ago, an email with the subject line of "Florida My Wingman" showed up in my in-box. I figured it was advertising of some sort and was like "Yeah, yeah, I'll get to this later." However, I couldn't resist the immediate urge to click on something that read "wingman'. That term always brings with it some mayhem and a great story.
Turns out, this Wingman story is no exception
A quick phone call to start-up company BasementDadSports.com put me right in touch with Ken St. Cyr. Ken, along with his lovely wife Cathy, invented and manufactures the company's trademarked and signature line of products, My Wingman™.
What a nice guy. It was a terrific experience speaking with another business professional who was earnestly looking for a mutually beneficial interaction. Further, wow! Have Ken and Cathy put in some serious effort on their family owned operation. They've gone the extra mile to make sure their product is top quality and it shows.
Its patent pending design is made of highly durable plastic and has passed all US CPSC and FDA requirements. My Wingman™ is officially licensed by 15 colleges and universities and they're expanding to more schools soon.
My Wingman™
Ken was gracious enough to ship us one of these bad boys and we were like kids at an orange and blue Christmas. The Florida Gators Wingman is fantastic!
The Wingman is lightweight but solid and assembles in a snap – literally. It also dis-assembles with ease, which is awesome for folks who need to conserve space or want to take their wingman on the road to their next tailgate!
From the pictures on the BasementDadSports.com website, it's a little difficult to get a sense of just how 3D these are so here are a couple pics to give you a bit more perspective.
We particularly like the snarl on this Gator's face.
One of the reasons this product really stood out to us is that the Wingman has a place to hold drinks AND food. All the table butlers we've ever seen on the market just have a tray so Wingman is way mo' better.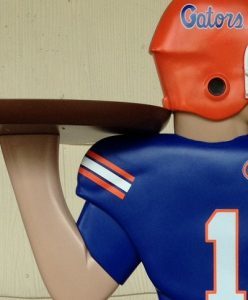 Also, because we're geeks, we're always fascinated by intelligent design.
Take a look at the tray's position in this picture. Though the plastic tray itself is a bit thin compared to the sturdiness of the overall product, the designers cleverly supported the tray in the center and one end. Plus they tucked the tray's lip up under the helmet using resistance to make it "stronger".
Brilliant.
Bottom line? We dig it.
Mostly, we just really want a stationary place to put our beer so this guy gets extra points for helping out with the "no spillage" policy we have firmly in place at GC. Fortunately, the Wingman's base is long/wide enough to make it super stable.
Special offer for Gator Country Readers!
Ken and Cathy have been kind enough to offer a huge discount to all Gator Country readers. Order your My Wingman™ in the next 14 days and use the coupon code Gator Country to receive a $30 DISCOUNT PLUS FREE SHIPPING!
We are really grateful to BasementSportsDad.com for the opportunity to be one of the first to introduce such a great product for the home, office, dorm or tailgate party. Be the holiday hero and give a My Wingman™ to all the true Florida Gators fans you know.
We know our readers will appreciate the large discount offer. With the OVER FORTY DOLLAR SAVINGS they can upgrade the beer and get wings to boot.
Here's how to order:
basementdadsports.com
Phone: 707-486-5854
Be sure to follow BasementSportsDad.com on Facbook, Instagram & Twitter!
Kudos to the St. Cyrs family. We wish them much success!