He's really gone.
It doesn't seem plausible, but reality is slowly seeping into the hearts and minds of Gators fans, who, for so long, had laughed off the possibility as nothing more than offseason fodder and a distant but unlikely nightmare. Now the spiny tinges of the cold hard truth are taking over. It's real.
Billy Donovan, head coach of the Florida Gators basketball team for 19 seasons, is leaving Gainesville to take the same position in the National Basketball Association with the Oklahoma City Thunder.
It's not under bad terms, or any pressure.
Any bad blood that might be curled from this is quickly disposed of because it seems Gator fans have a hard time convincing themselves to be mad at Billy Donovan. They love him too much to hate him.
It wasn't an easy decision on Donovan's part either.
"I want to thank Jeremy Foley, the players, coaches and staff I've had the chance to work with during my time at Florida," Donovan said in an official release.
"The administrative support and stability has been unbelievable here, and it is an incredibly difficult decision to leave that. I knew that it would take a unique opportunity to leave the University of Florida and that is clearly how I look at this situation."
Upon hearing the news, my movie-inundated brain immediately thought of the closing scene in Shane (1953).
As the injured gunfighter Shane, played by Alan Ladd, rode off on his horse towards the mountains and his future, a young Brandon De Wilde, playing Joey Starrett, stood on the edge of the porch, yelling about all the ways his family needed Shane, hoping that the gentleman would turn around.
Finally, with one last surge of hope, Joey yells out, "Shane! Come back!"
Shane didn't come back.
That's how I imagine Gator fans today, standing on the edge of Gainesville, yelling with tears in their throat for Billy to come back; knowing all the while that his job here is done and he's not going to turn around.
 ***
When Billy Donovan first arrived in Gainesville on March 26, 1997 he was the hot shot young guy who most basketball fans still thought of as "Billy the Kid".
The Florida Gators basketball program had one SEC title in 77 seasons. For all intents and purposes, Donovan was given a washrag and a soap bucket, then told to make the Ford Focus under the tarp look like the Ferrari across the street (that was a subtle reference to the football program in case you didn't catch it).
And then, he did just that.
He won two national championships, went to four Final Fours and garnered six SEC titles all while posting a 467-186 record at the helm of this ship.
He's sent 15 players to the NBA and gave Florida 16 straight 20 win seasons.
In the 2013-2014 season, Donovan's second to last in Gainesville, Florida went 36-3, posting the best record in school history and won 30 in a row.
Some will remember his final season with the Gators as the season to break that 20 win streak; as the first season since his rookie year in Gainesville to miss the NCAA Tournament; as the season that had to follow THE season and failed miserably.
I'll remember it for something else though.
I'll remember it for February 28, 2015.
That's the night that Donovan won his 500th career game as a head coach.
Later, after the game, Billy would say, "I think all that stuff, to me, is just a reflection on the players that have been around me. The coaches that have been around me, the administration and that kind of commitment. I really look at, it necessarily goes on my record, so to speak, but there's a lot of other people that have contributed in a big-time way to all of those things. I'm just a part of it. And I think you're only as good as the people around you. And I really believe that to be true."
With 15 players in the NBA, it stands to reason there have been a lot of good players around him. But on that night, Billy got to step away from his team for a second and stand on his own before the crowd. As they cheered and applauded while holding up commemorative "500 Wins" signs, I stood about three feet from Donovan. He had tears in his eyes as he waved to the crowd, thanking them for their support. What a perfect picture that was of this program thus far.
Donovan's right, it was a collective effort and many of the benchmarks will always have Florida's name attached to them. But Billy was at the center of it all, the nucleus that created the powerhouse. While Florida still is and probably always will be a football school, Donovan gave it a basketball culture to be proud of. Fans now can hold their own in an argument against the perennial powers of Duke, UCLA and, yes, even Kentucky.
The Stephen C. O'Connell Center is the house that Billy built and one day, probably soon, it will have (read: better) his name etched on the court, forever memorializing all that he did to bring Florida to where it is in the college basketball world.
But his reach stretches far beyond basketball and that's where we really see the legacy that is Billy Donovan.
***
"It's going to be a sad, sad day in Gainesville."
That was what one long time Gainesville resident said when she found out her beloved coach would be heading to the NBA.
Because while Gator Nation is losing a coach, Gainesville is losing one of their own.
The inferences behind that statement tell us so much about Billy Donovan.
During his near two decades in Alachua County, Donovan and his wife Christine raised four children. They were instrumental in establishing St. Francis High School, a Catholic secondary school that sits just on the edge of the city limits and where all of Donovan's children have and/or are attending.
Keeping with the family tradition, both sons played basketball for the Wolves.
Due to my first gig as a sports reporter in Gainesville, there were times I would have to attend these games. It wasn't uncommon to see the Donovan's there, taking in their sons game with the rest of the parents.
Christine would be at the scorer's table, keeping the book, while Billy sat behind her in the stands. When the game was over she would tally the results and Billy would take pictures with fans, usually from the opposing team. Gainesville residents were already used to seeing him around. He is that much apart of the community.
In a profession that is famous for it's carousel of jobs, this kid from Long Island, New York came to North Central Florida and found a home. No matter how far the wings of his new career path takes him, there are now roots planted in this swampy soil and they'll hold tight, welcoming him back as a prodigal son whenever he might visit. Gainesville considers Billy one of their own now, and that's an uncommon statement concerning a college coach.
*** 
When I first came to Gainesville I was a young reporter fresh out of college who hated basketball. It was repetitive and boring and didn't hold any interest for this football fan.
It took about two games in the O-Dome to change that. The team was exciting, but I loved sitting in the photographers section and listening to Billy.
His Long Island brogue would thicken when the game was close but no matter how much he yelled while the players were on the court, he would soften when they got to the bench. Soften may be a slightly generous word there, but it wasn't quite yelling.
He'd be brutally honest with who ever was checking out, then tell them to sit down with an eyebrow raise that said more than words ever could. His interactions with the officials were like conversations with old friends at a poker game, either simply asking them why they made certain calls or gently explaining the rules of the game to them when Billy knew they were wrong.
And then came the press conferences. That's where Billy was at his best. He would step into each one with the same attitude, no matter win or lose. There were life lessons to be learned in that room and jokes to be made, usually at one reporters expense or another.
When I covered my last Florida game for WCJB-TV20, Billy stopped and gave me a hug, telling me he'd miss having me there and best of luck in the future. When I returned with GatorCountry, he laughed, saying "hey, where you been? I've missed seeing you back there."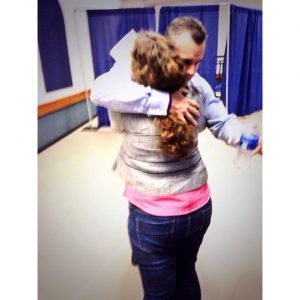 At first I thought, "Maybe this is how it can be with coaches and reporters. A rapport that is learned over time."
I have a feeling though a large part of that is unique to Billy Donovan.
He inspires that in people, so much so that they'll stand on the edge of a porch screaming for him to come back, knowing all the while that as soon as he's out of sight, they'll be rooting for him to succeed on the other side.
So, we wish you good luck Billy Donovan.
Thank you for the wins, but mostly for the memories. You're name is written all over this town and woven into the program. You'll be welcome for visits whenever you'd like.