Legendary High School Quarterback May Be Just the Gator Aid that's Needed
As I sat in the scorching hot sun of Bryant-Denny Stadium, up on the second-to-the-last-row (row 30, seat 20, section NN) of the stadium, underneath a beautiful late-summer Alabama sky, I listened to a Florida band piped through the speakers perform Sweet Home Alabama I couldn't help but think to myself: these sap suckers don't know what's about to hit 'em! We're gonna have us a game today!

 Of course, Lynyrd Skynyrd isn't just any Florida band. They are probably the most iconic Florida band of all-time and "Free Bird" is for man the signature song of the southern rock genre. Their talent transcended the Southland and launched them to worldwide fame; they were inducted into the Rock and Roll Hall of Fame in 2006. And Alabama football, of course, isn't just any other college football program.
So, I settled in to watch what are probably the SEC's two most iconic programs of the modern era do battle. Two gentlemen from Atlanta happened to sit next to me. Both were cheering for the Gators but one was a UF alumnus and the other one was a season ticket holder of the Michigan Wolverines and a UM alum. As the game began and as a seemingly long first quarter played out (television timeouts, wow!), they joined me in my assessment: We're gonna have us a game today!
As a matter of fact, we did have a competitive game – for one half. But then the mathematical certainties of Bama's depth, talent, and more efficient quarterback took its toll rather dramatically. At halftime, I had a rather strong premonition the game was going to play out in the second half as it did. While standing like cattle headed to a slaughter on the upper deck concourse trying to get to some food, to some drink, to the bathroom, etc. (by the way – poorly designed addition on the concourse, Bama, with severely too little width) I reverted back to my Army training. Worst-case scenario is all I could think about. My premonition combined with my extreme dislike for being trapped in such a crowded herd and I decided to get the hell out of dodge.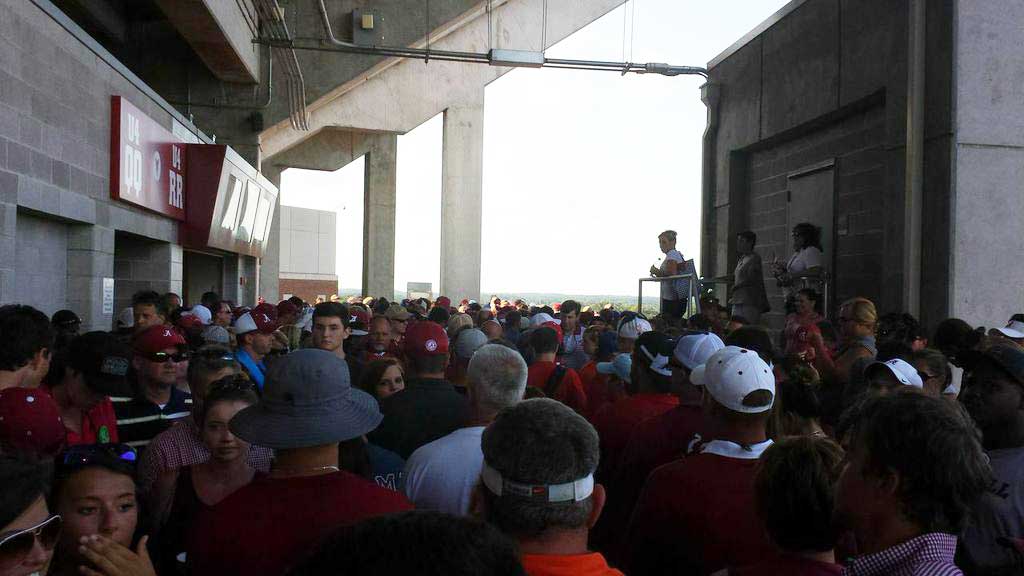 That was a very good decision. I watched the second half from the tailgating venue provided by the First Christian Church (Disciples of Christ). Beautiful shade, nice flat screen TV, and a window into some justifiably proud Bama fans. Although one older gent had to get up and move because he couldn't tolerate anybody cheering for the Gators sitting next to him.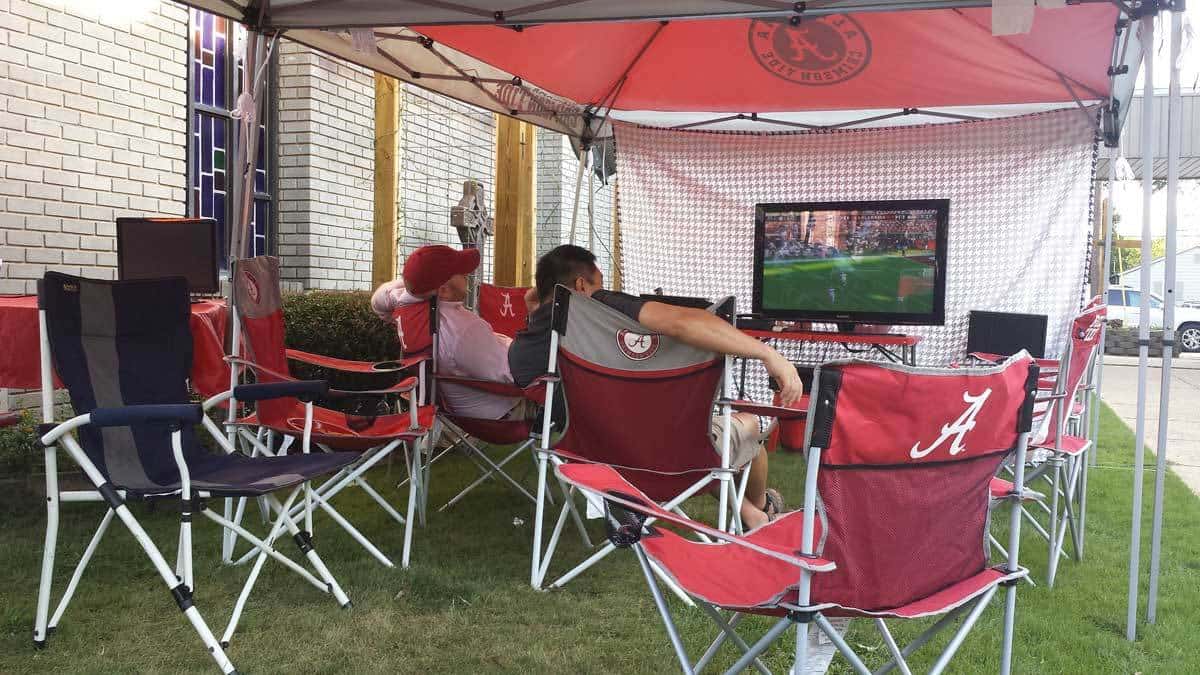 Fine, get up and move my brother, but I will be respectfully cheering for my Gators on this here spot.
As fate would have hit, we had very little to cheer for in the second half and Bama had plenty to love. Sitting down in the shade, and listening to Bama fans celebrate inside and outside of the stadium, my mind wandered to Jeff Driskel.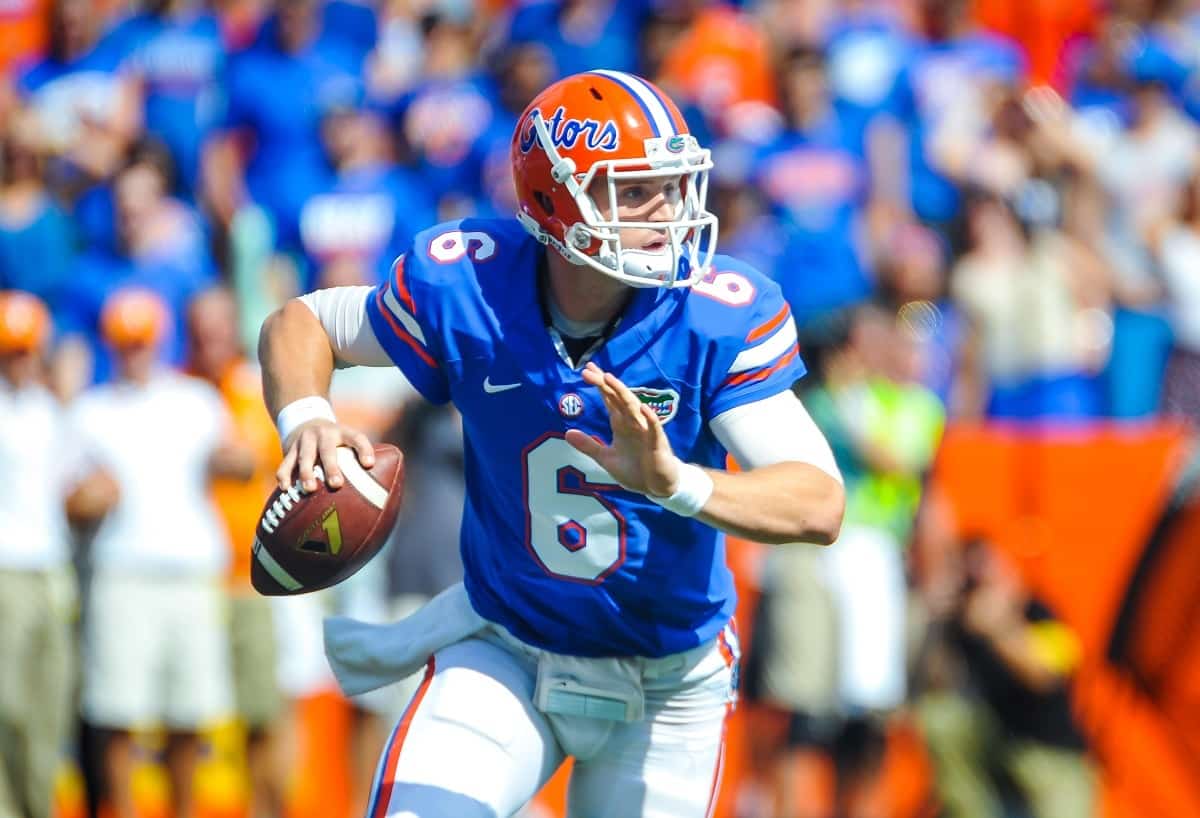 I feel bad for young Mr. Driskel. I know that if he has lost me, a staunch defender that much preferred him over Jacoby Brissett a couple of years ago, he has likely lost the support of Gator Nation. I thought this would be a breakout year for him and that his play would be so superior that he would likely leave for the NFL draft as a redshirt junior.
I honestly did.
Unfortunately, the dye is now cast and he is remarkably inefficient in this offense. This is extremely problematic because this Kurt Roper up-tempo offense is deadly to a defense – Jeff's defense – if it is run inefficiently. This offense has to move the chains for it to work within the larger, and very important, scheme of complementary football. Your offense has to give your defense time to collect itself. It simply has to.
There's no charitable way to critique Jeff on this; all the available evidence demonstrates that Jeff doesn't know how to command this offense so as to consistently move the chains. For the second SEC game in a row, Jeff's inefficiency squandered a first half effort that was entirely sufficent to blow out Kentucky and compete with the Crimson Tide (yes, Bama out-schemed us offensively on over the top passes – I give them all the credit for that; 4 plays accounting for 250 yards or so is incredible) but our front seven completely held Bama in check in the first half. But it was hot as hell at that game, and the mathematical certainties clearly caught up with us.
According to ProFootballFocus.com's Game of the Week analysis, Bama ran 96 plays on offense at us as opposed to the 57 plays we conducted against them. Yes, with that level of disparity even the best defense will wear down. As a result of wearing down, Florida in the second half missed all kinds of tackles. Bama used 30 players on offense against us (but their starting offensive line played the entire game — think about that; it means they ran a boatload of fresh skill players at us) and not one of their defensive players was on the field for more than 57 snaps. In glaring contrast, we had 12 defensive guys on the field for more than 57 snaps. 12 !!!
Mathematical certainties alone would have had us losing this game, and there would have been no shame in that, but a transcendent talent at quarterback for the Gators may have changed the equation – an inefficient one, however, could only worsen the outcome.
And that's what leads me to young Mr. Treon Harris.
tran·scend·ent

tranˈsendənt/

adjective; surpassing the ordinary; exceptional.
With the history of Chris Leak still fresh in our memory, it isn't unreasonable for Gator fans to already be looking to the future. As was noted by AlphaOmegator on the GatorCountry.com message boards:
Leak began his career at Florida as a freshman, seeing playing time in the first few games, and taking over as the starter in the game against the Kentucky Wildcats. Leak finished his freshman year with [an SEC] record for a freshman, posting a 6–3 record as a starter, including wins over the eventual national champion LSU Tigers and the rival Georgia Bulldogs. Leak was named to the SEC All-Freshman Team and Rivals.com's Freshman All-America Team.
Chris became a national championship quarterback for us and quite the field general, dissecting the Ohio State Buckeyes in the BCS national championship game with absolutely remakable efficiency. He was 25 for 36, 213 yards, one touchdown, and no interceptions.
And he never gave Ohio State a chance to get back in the game through an error he made.
Now we have another freshman on campus, a legendary Florida high school quarterback who incredibly led his Booker T. Washington team to three straight state title games, winning the final two after almost winning the first one against perennial power Jacksonville Bolles, and last year winning the mythical national high school championship.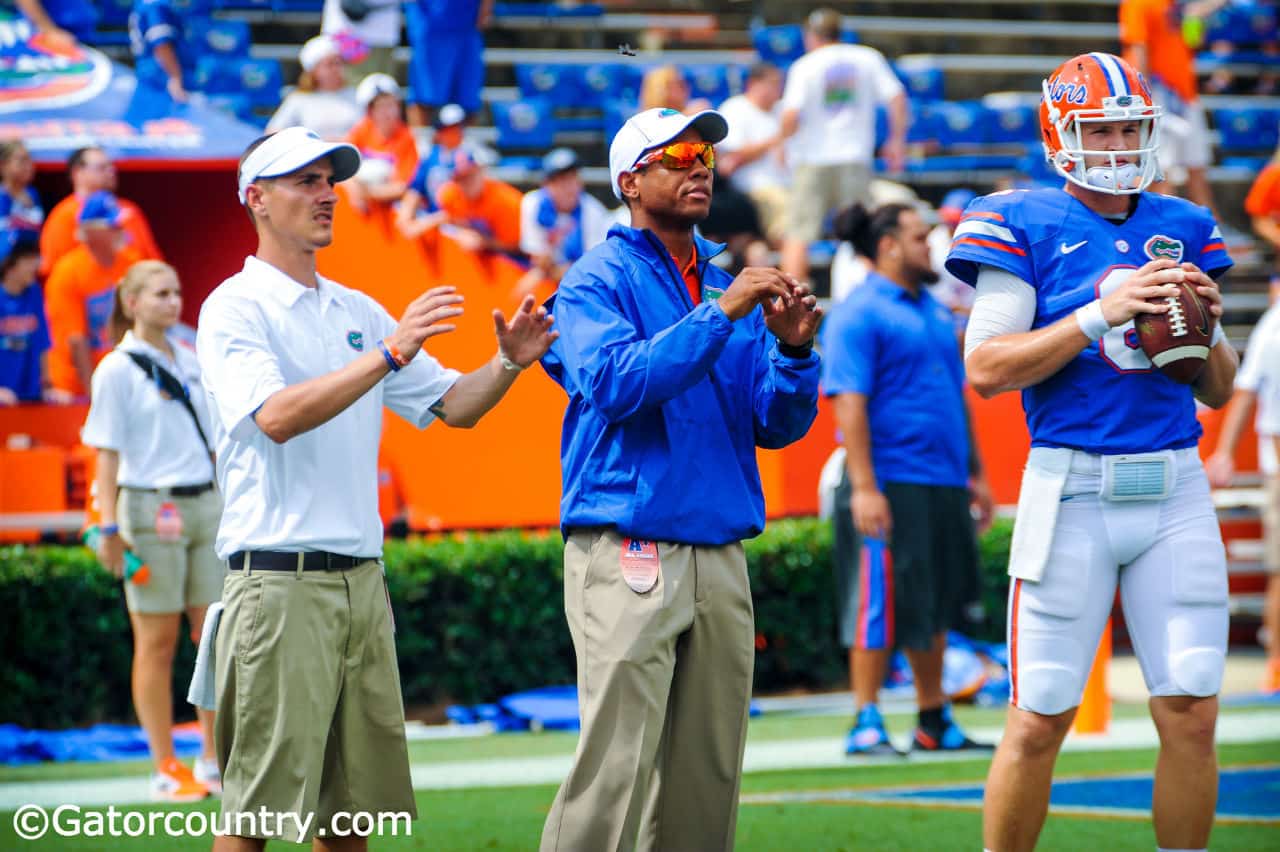 The facts listed in the paragraph above, in-and-of-themself, make Treon Harris a transcendent quarterback. But then he stepped onto Florida Field at the shrine that is known both as Ben Hill Griffin Stadium and The Swamp and produced sheer magic.
In the only two series of the football game given to him, he threw only two passes. Both were right on the money, both went for long touchdowns, both made Gator Nation stand up and take notice of the kid from Dade County.
The legendary high school quarterback made a legendary, Hollywood-style entrance onto the big stage that is True Blue Fightin' Florida Gator Football. So legendary was it that some immediately tried to downplay a truly historic event that had never occurred before in Florida Gator football history.
But it was too late.
Treon the Transcendent!
He had arrived, another Orange and Blue Chosen One, this time not from Big Duval up in the northeast corner of the state but from way down yonder in The Bottom, in the southeast corner of our great state. He came to Gainesville on a mission: to bring Gator football back where it belongs.
To make everybody once again bow down to the Beasts of the East.
He brings with him a calm, competent swagger earned on the football field against the biggest and best competition in the nation. That calm, competent swagger was on full display in his Florida Field debut. Neither touchdown pass looked like a fluke, neither was thrown with indecision. He threw them confidently and competently. Two passing attempts, two magnificent passes, two long touchdowns.
So many players from Dade County are famous for their talent and their mouth. This kid, this chosen one, seems to be content to let his play do the talking. And his play so far makes these very emphatic statements:
I'm not your Daddy's wildcat specialist;
I'm not your Mama's limited package option;
I'm a national championship quarterback. Turn! Me! Loose!