Tim Walton was feeling the pressure.
As December of 2014 inched towards a new year and subsequently a new softball season, Walton had to ask himself questions he didn't quite know the answer to yet.
It had only been a few months since Walton and the Florida Gators softball team won the 2014 National Championship, the programs first.
But the hardware had already been put away and the joyous jubilation was long past. With the 2015 softball season barreling down upon him, the head coach knew it was time to get down to brass tacks…there was only one problem.
"This is one of the hardest years, or falls to set goals", Walton admitted to GatorCountry in December.
"What are the goals? What do we want to do with this team? What do we want to accomplish? Not that we all don't want to accomplish winning a national championship. But we have to establish in reality what can be accomplished. You're gonna have the target on your back."
He was right.
Week after week, team after team, player after player; they all threw (or hit) their best against Florida. But the Gators didn't flinched.
Whatever target had been on their back, they flipped it in front of them and hit a bulls eye.
Striding into the Women's College World Series as the number one overall seed and a mere 55-6 record, the Gators have reacquired that target on their back. Tim Walton knows that but he also knows how his team has played all season. So one more bit of pressure isn't what it used to be.
"I think the important thing is to come out here be as natural as you can, play as natural as you can", Walton said on Wednesday.
"I think getting to this point, going through — you want to be the number one, just for matchup purposes, but there are a lot of extra bags that come with that. And I think our players have handled that very well…after you win a championship, kind of all eyes are on you and expectations are there and to get back…after you go and win a championship, what are you going to do to follow up that and especially with only graduating the two kids we graduated from last year."
One of those graduation was ace pitcher Hannah Rodgers. Her contribution to the team's national championship run was crucial and her impact hasn't been forgotten.
When stepping onto the field Wednesday morning, it was the first time Walton had walked the ground since he stood there a year ago hoisting a trophy over his head. Now that's time to try again, the memories of 2014 and of Rodgers have begun filtering through Walton's mind, replaying great moments from their recent championship.
"I hit a ground ball back to the circle today", says Walker. "And I envisioned, I don't know why, but I did envision Hannah making the play to end the game. I don't know how or why it came into my head. Lauren (Haeger) made a nice little jump, a little hop and made a play and it did bring back memories. And, again, a lot of us have had special memories in our lives. And that will never go away."
Another memory to add to the pile, and fuel to competitors fire, is the newly minted Player of the Year, Lauren Haeger.
Walton describes the why Haeger is deserving, saying, "She's a special player. She's really come a long ways. To see her growth not only as a person but as a player is tremendous. She's always been a winner. She's won at every level she's played at and for her to be able to make the sacrifices that she needs to be a better player is nice, fun thing to really live. I lived that. I watched the transformation of her maturing into being who she is now. So it's been a lot of fun. We've all had special players before, and Lauren is just a very unique individual. She's funny off the field. She's competitive on the field, and she's got some tremendous God-given talents as well. So it's real exciting for me. It was special last night. I've never had, never coached the player of the year, so it was a really special moment for our program."
Since the Gators nly graduated two from 2014, that means Heager is joined by 13 others for 14 returners total. Fourteen girls that had stepped onto their sports biggest stage and conquered it. Fourteen girls that got a taste for victory and want it again. As the begin the next phase to conquer that goal on Thursday facing SEC foe Tennessee, Tim Walton wants them to not rush forward. It's hard to reach the finish line if you're tripping over your own two feet. Staying in the moment is Walton's way of keeping his team steady.
"That's one of the big things I've been trying to sell my athletes on this whole entire year", Walton explained.
"No matter if you win the national championship or you get to the College World Series, this whole season is about enjoying the moment, winning the moment, and just have fun, enjoy your teammates. Nobody is going to remember 10 years from now whether you were the star hitter or pinch runner, nobody remembers that, they know you're part of something special."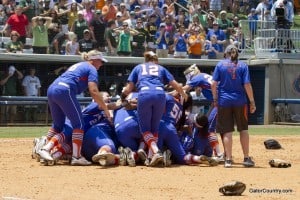 This strategy has proved successful before, just a year ago in fact. With a team that has not only found their goals for the season but consistently accomplished them, they know take their winning formula back to WCWS. It's a place they've dominated before. Now they have their target set and are ready to do it again.