Break out your brooms; the Florida Gators football team has swept the SEC East – a division that sports writers before the start of the year said the Gators would finish fifth in.
Yes, they beat Georgia again. Yes, they beat the best Tennessee team in eleven years for their 11th straight win in the "rivalry". They continued their winning ways against Vanderbilt and Kentucky. Finally, they capped off a trap game against South Carolina with a game that was not quite as close as the final score.
The Gators who have secured their spot in Atlanta, Ga. for the SEC Championship now have two final games against teams that have a combined 10-10 record – one team with eight losses and one team with eight wins – in Florida Atlantic University and Florida State University.
I imagine the Gators are looking to try some new things this weekend, get a few new players the ball, and try to build some confidence before playing in a big rivalry weekend before heading to Atlanta.
But before getting too carried away, let's review the Gators game against the Gamecocks and look where they are now.
Quick Overview
The other day I was discussing with a friend that this team (2015) is quite a bit different than the 2012 team that went 11-2 even though they may look similar on the field (great defense, weak offense).
While I am sure Jim McElwain wishes that his offense was performing a bit better, let's take a look at the numbers quickly and show that, yes, they aren't great on offense when you factor in strength of schedule thus far, Florida is doing well enough on offense to keep them in games even if the defense were to lapse – something that couldn't be said in 2012.
Visually it might not be evident, but here is a quick chart to show you.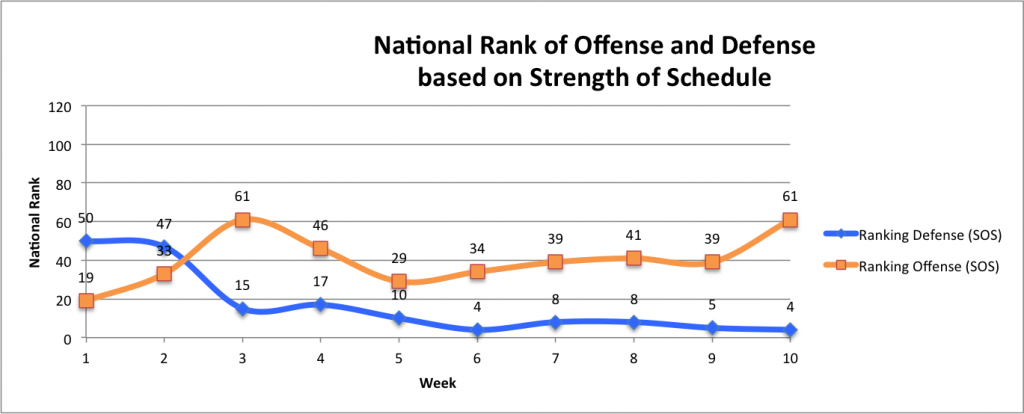 Oh, and this year's defense statistically is better.
Offense
The Gators did a few things great on Saturday, but also had some hiccups against a less than stellar defense.
A few notes overall:
• The Gators had their second best third down conversion offense of the season on Saturday going 11-for-19 (57.89%) – improving their third down conversion percentage on the season to 40.13%, which is the highest it has been on average since after week one.
• You can see the offense changing slightly. The Gators average almost four more rushes per game with Treon Harris at quarterback.
• The Gators are terrible in the red zone. One of the only positive notes about last season was that the Gators scored 90.91% of the time they entered the red zone, which was ranked 11th in the country. This season, the Gators are down to only 75.61%, which ranks 112th in the country and it is getting worse.
The graph below shows 2014 as a baseline and where the Gators are now.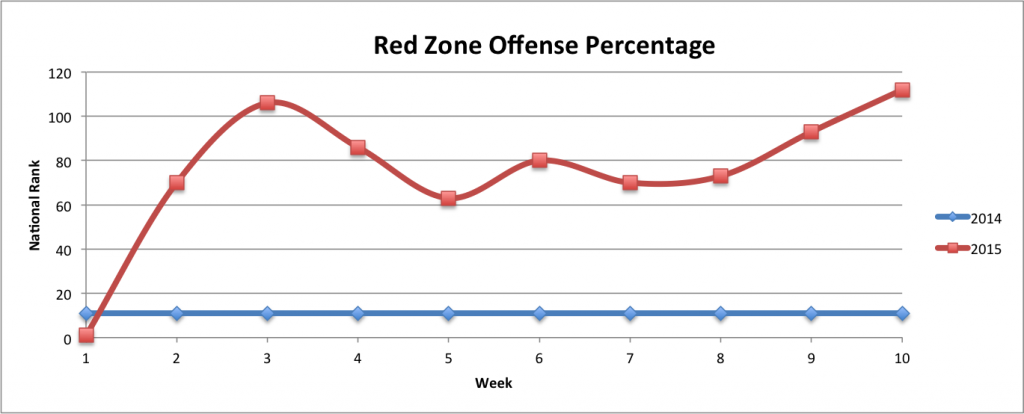 • The Gators are averaging nearly 50 yards less per game rushing compared to last year, but they are passing about 53 yards more per game. But what does that mean? The Gators are only averaging about three more yards per game than last season. But don't panic, the Gators are averaging a bit higher on percentage of plays that result in a first down or touchdown; completion percentage; pass efficiency; touchdown-to-interception ratio; yards/pass attempt; and a host of other offensive categories. I know many of you aren't thrilled with the offense, but they have already played three teams in the top-25 of total defense. Plus with FAU coming to town, expect some of these numbers to inflate quite a bit.
• Since Treon Harris took over as starting quarterback, the Gators team pass completion has dropped from 66% before the LSU game, down to 61% after South Carolina.
• The Gators rank 122nd in the country in time in seconds per game (29:30 per play), but maybe that is their goal, because they rank ninth in the country in time of possession.
• A very weird stat: The Gators rank 118th in the country in total number of opponent penalties and 127th in opponent penalty yards per game. On the opposite side of the ball, the Gators have improved from 92nd in the country to 56th in the country in total number of penalty yards they commit per game, but it is still a weird stat – are referees not calling the game fairly or do other teams play perfectly against the Gators?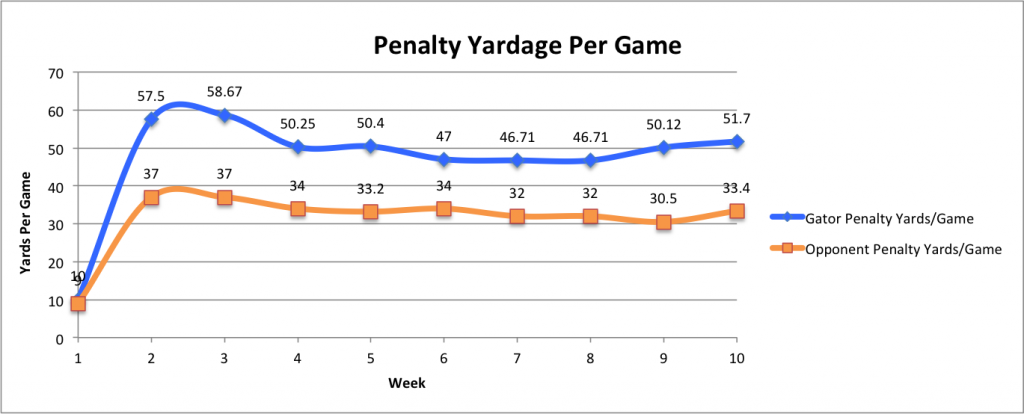 Defense
What more can I say about this Florida Gators defense?
Oh wait, I have a lot to say below!
• On the 37 statistical categories I track on defense, the Gators are ranked in the top 20 in 29 of those categories. Incredible. Last year, the Gators defense that was talked about so much was only in the top-20 in 21 categories (which is obviously a lot).
• On more than one out of every five plays (20.32%) the Gators are causing a turnover, sack, or tackle for loss. That happens 3% more than last years great defense.
• The Gators are only allowing 174.90 yards in the air each game, which ranks 10th in the country. Last year they ranked 42nd, so this is their largest improvement year over year.
• The Gators are sacking opponents once out of every 10 times they drop back to pass. Last year, it was one out of every 14 times.
• The Gators are averaging just about one touchdown less per game than last season – 14.5 points per game – which is exactly what the stellar 2012 season allowed.
• The Gators are still ranked as the best third quarter defense in the country – they have only given up 16 points total in the third quarter and only 406 total yards.
Looking Forward to Game 11
The Florida Gators are going to raise their blood sugar this weekend because they are going to be eating a cupcake this weekend. Florida Atlantic, led by Jeff Driskel's younger brother Jason, is coming to Gainesville with two total wins against 2-8 UNC-Charlotte and 5-6 Florida International University.
FAU is ranked as the 110th offense in the country based on strength of schedule and 92nd in the country on defense. They struggle to sack, tackle for loss, or cause turnovers on defense; and get a first down or touchdown less than 30% of plays (99th in the country) on offense. In fact, there are almost no categories on offense or defense worth praising FAU about, except maybe that they rank 25th in red zone defense. There you go, congratulations Fighting Owls.
Las Vegas has the Gators as a -31 point favorite with an O/U of 46.5 which means they think the Gators will win 38-8 or 39-8.
While the Gators haven't been scoring a ton of points on offense, I think they move the ball well against the Owls and win 45-7.