Edwin Louis Cole, an author you have probably never heard of, penned a quote in 1995 that said, "Winners are not those who never fail, but those who never quit."
Is there a quote that better encapsulates that Florida Gators win over the Florida Atlantic Owls than that particular quote? The Gators failed a lot on Saturday, particularly on offense and field goal kicking, but they didn't quit and found a way out of the Swamp with a 26-20 overtime win.
The Gators now sit with double digit wins for the first time since 2012 and Jim McElwain became the first coach in Florida Gators football history to win 10 games in his first season as head coach.
As always, lets take a look at the Florida Gators performance against FAU and statistics/trends that have become known over the last 11 games. But let's be clear, this article, well the first half of it, will not be pretty. There are going to be a lot of tough numbers to look at – so do not blame me.
Offense
I am going to jump right into it.
The Gators rank second in the country in average starting field position – 35.1-yard line and yet rank 80th in the country in scoring offense. Further, when the Gators move the ball just 25 yards to the opponent 40 yard line, they rank 92nd in the country in points per trip inside the 40 (4.43 points).
It is not pretty, folks.
The Gators rank 79th in offensive efficiency and it has only gotten worse over the past month.
On Saturday, the Gators achieved the fewest number of yards on offense against a non-Power Five opponent since before 2000 (the last time I could find statistics). Not good, folks.
I am not the type of person to blame Jim McElwain like many in the media and fan base are, but there are some pretty damning statistics that prove that the Gators just don't move the ball or score the ball nearly as well as they did with Will Grier at quarterback.
Below you will find five graphics that take a look at some of the most important offensive statistics and how they have declined nationally over the last few weeks. The graphs start at 0, which was Will Grier's last game against Missouri.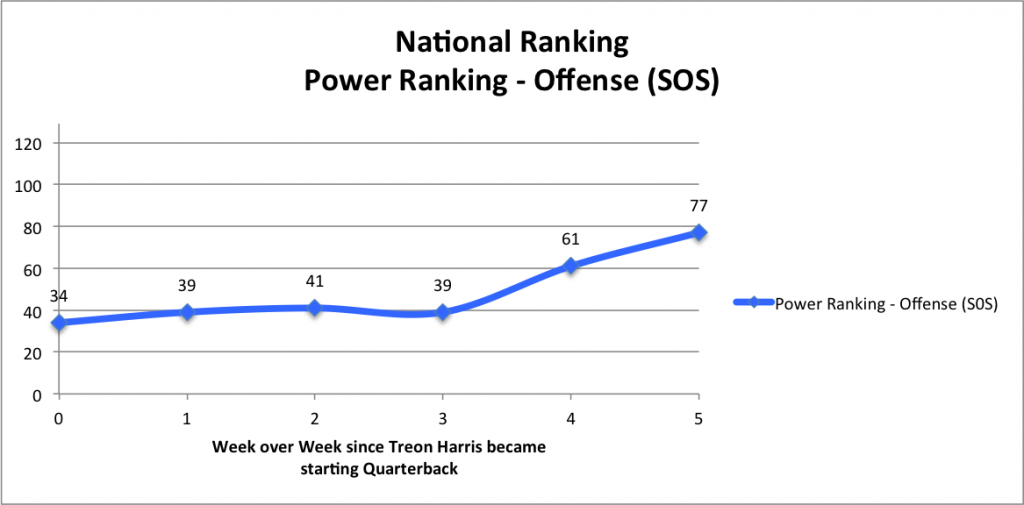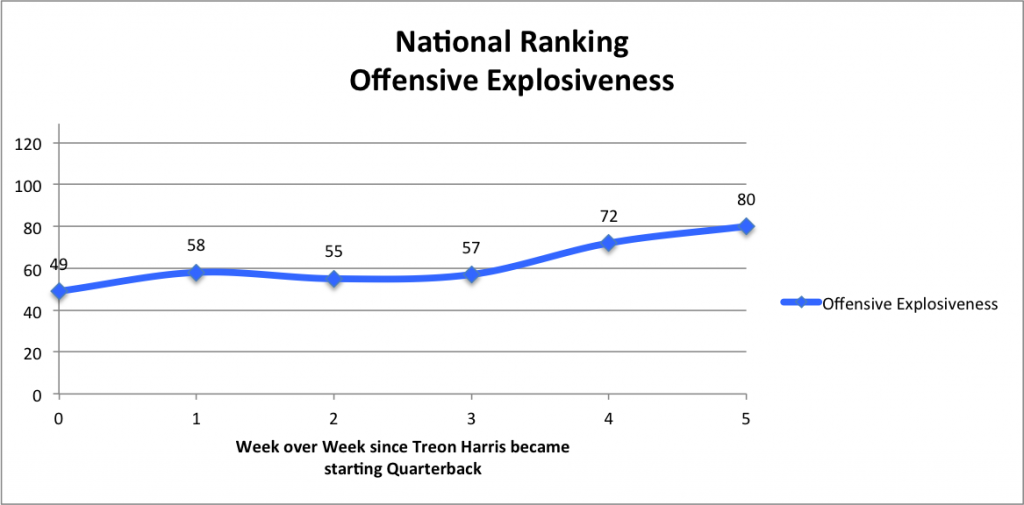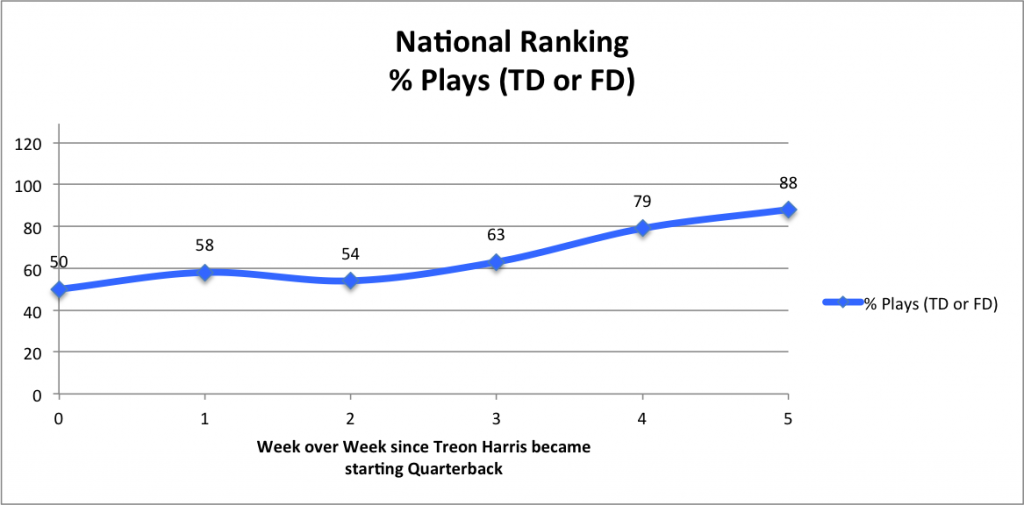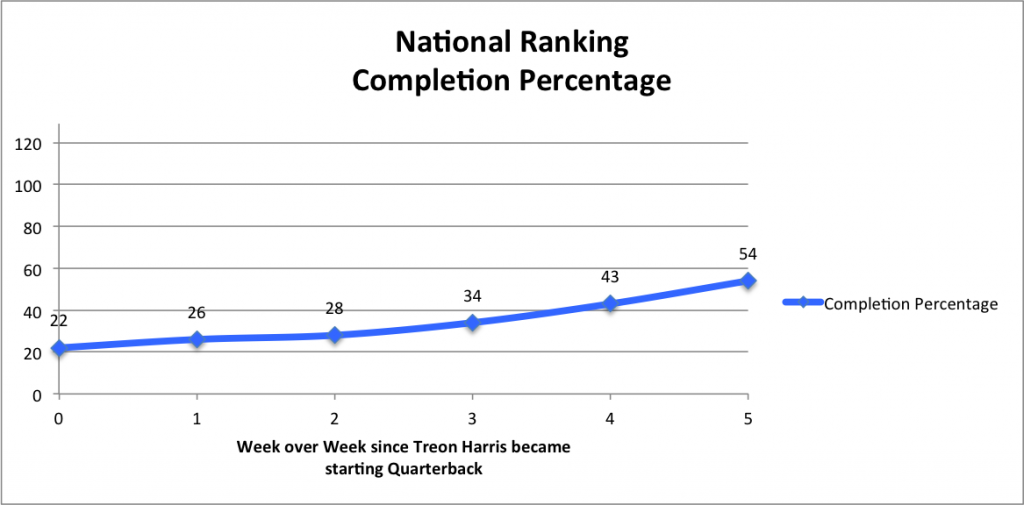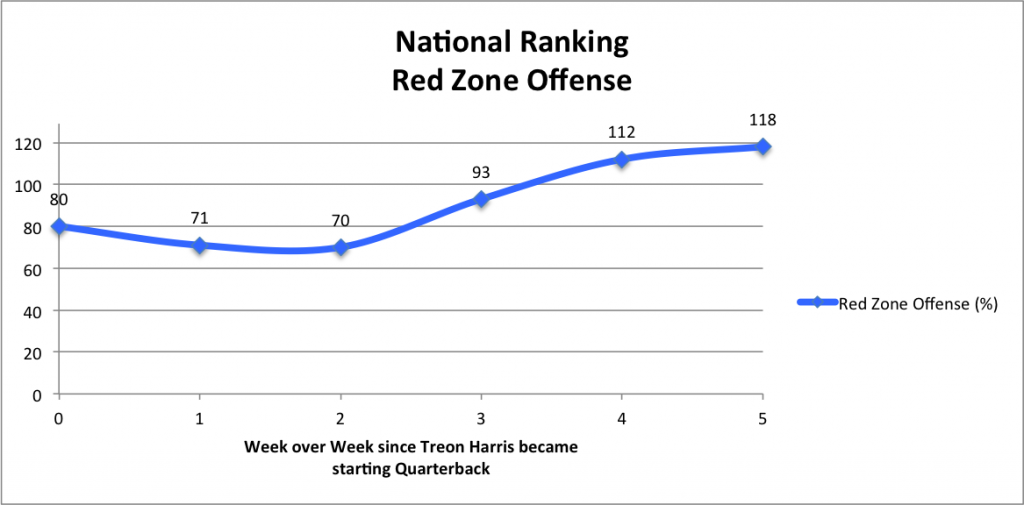 I don't know what more to say or analyze.
The offense averages seven less per game than last season, nearly the same number of first downs, about .6 yards per less per rush, three points less per game, and 17% less success in the red zone.
Huh?
Eleven games into the season, the Gators are missing no players to injury and the patchwork offensive line that was supposed to be terrible, that turned out not to be, is starting to collapse…that is not supposed to happen now…it was supposed to improve throughout the year, not regress. And the numbers say the Gators are worse on offense this year than last year – with an offensive head coach.
What is going on with the play calling? Treon Harris is obviously not a great pocket quarterback nor is he getting great protection, so what do you do in those situations? You set up more short routes (in routes, crossing patterns, swing passes, etc.). I hardly see any of those. I just see outs and go routes. Since Florida is having trouble with pass protection why the hell are the Gators taking three-to-four seconds to get rid of the ball? Why hasn't Treon Harris improved after a year under Jim McElwain and Doug Nussmeier? What happened to the tight ends, like C'yontai Lewis? Will the Gators finish with an offense ranked in the lower one fifth of the country for the fifth year in a row?
I can't even talk about it anymore.
Defense
On the other side of the ball, the Gators are putting up numbers than rival just about any other Gators defense.
The three most impressive statistics the year:
69.34% of all opponent drives against the Gators defense have not crossed the 50-yard line.
The Gators have the number one defense in the country in the third quarter.
On passing downs, the Gators rank third in the country in sacks.
You could recite statistic after statistic, whether its percentage of plays that result in a turnover, sack, or tackle for loss (5th in the country), fewest number of plays that result in a touchdown or first down (8th in the country), forced turnovers (11th), pass efficiency defense (8th), rushing yards allowed (8th), and yards per pass attempt (7th), to show how dominate this defense has been this season.
And it's not just one player on the defense line, like last year with Dante Fowler, it's Jon Bullard, Alex McCalister, Bryan Cox, and CeCe Jefferson. It's not just Antonio Morrison in the linebacker corp like last year, it's Morrison and Jarrad Davis this year. It's not just Vernon Hargreaves, it's Hargreaves, Jalen Tabor, Brian Poole, Quincy Wilson, and Keanu Neal. Everyone is contributing. It is beautiful to see and Coach Collins, Coach Rumph, Coach Shannon, and Coach Callahan deserve incredible credit for creating one of the best defenses in Florida Gators history.
Special Teams
 Let's start off with the good news.
Johnny Townsend is having an unbelievable season. He has 62 punts on the year with only three touchbacks and is causing his opponents to fair catch or have the ball land inside the 20-yard line on 66.7% of his kicks, which over the last five games has been above 80% of punts. Absolutely incredible.
Townsend's incredible work punting the football has yielded the best stat of the article: Gators opponents have the worst starting field position (24.8 yard line) in the country.
On to the bad news and I am not going to harp on it, I am going to leave you with this one statistic on place kicking because you all know the issues.
Since Caleb Sturgis graduated (2012), the Gators are 31-of-60 (51.67%) in field goal attempts.
Looking Forward to Game 12
If you would have asked me six weeks ago, I would have told you "Gators by 13+ points". They played with confidence and energy on offense, and while the defense is just as dominant, I am worried the Gators will be unable to move the ball against Florida State.
Let's take a look at a few match-ups:
Florida State averages 5.45 rush yards per attempt and Florida only allows 3.18 yards per rush attempt. Dalvin Cook is third in the country in yards per game rushing with 16 touchdowns and arguably the only player that the Gators have played similar is Leonard Fournette, who rushed for 181 yards on 31 rushes and had two touchdowns. Now, LSU has a much better offensive line than Florida State, but Dalvin Cook is quicker than Fournette and last year had 144 yards on the Gators. On the opposing end, Dalvin Cook has not faced a rush defense quite like Florida's. Will be something fun to watch.
Can Florida cause Florida State to turn the ball over? FSU is only averaging 0.45 interceptions thrown per game and 0.45 fumbles lost per game. On defense, however, Florida forces 2.18 turnovers per game, including 1.27 interceptions. Who wins in this battle?
Florida ranks 115th in opponent penalties. FSU averages exactly two more penalties per game than Florida opponents have been averaging, so will those extra yards and penalties cause Florida to gain an edge?
Will this game be the slowest game in history? FSU ranks 120th in the country in offensive pace and Florida ranks 104th. Grab your pillow.
Prediction: Florida 20 | FSU 17